Pilates/Yoga/Movement  Workshops
These Pilates and Yoga/Movement workshops are best thought of as semi-private sessions with our knowledgable instructors, who will discuss anatomy, functional movement in Pilates/Yoga, and how to put it all together to help lengthen and strengthen your unique body.
Get the most out of your Pilates workout by learning how to maximize the functions of the equipment. While the "equipment" looks like something you lay on or climb on, its actually something you step into, like clothing. Allow the springs to work like your body and your body to work like the springs. Learn how to make the equipment part of your full experience of movement.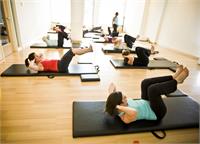 Hands on and Cueing: AKA ,What's in your toolbox? Getting a client to do an exercise is one thing. Getting them to feel it is another, and getting them to feel it differently is what makes a teacher great. This class will tap into your creativity to explore imagery, tone of voice, and speed of delivery to get more out of your client. The hands on portion will help you to feel where the client is moving from and to guide and assist them into new possibilities in their bodies. Every client learns in different ways, so its good to have a full toolbox to work with.
$60
Saturday
 10/14 
 3-6pm $60
The Barre Technique Workshop is uniquely designed to deepen your understanding of this popular fitness format. With foundations in both Ballet and Pilates, Barre technique is intricate and precise. To effectively create lean muscle mass and move safely, it is important to understand Barre fundamentals. Erika will break down the most common exercises with an emphasis on musculature movement, alignment and control. You will walk away with the tools to take your Barre practice to the next level!
Erika danced ballet for 13 years and is one of our SIX Barre Master Trainers. Erika strives to increase students' body awareness and empower them in a safe and positive workout environment.
Awaken Your Inner Core with Karen Gabler, LMT
Saturday, November 18th      
2pm – 4pm
Did you know you have an inner core that runs from your feet to your head designed to keep you balanced and aligned?
What you can expect to learn:
To differentiate between your inner and outer core
Activate and train the inner core for stabilization and balance
Connect to the center of gravity in the human body using breath
Strengthen the signals of communication in the deeper fascial layers
Perform subtle movements while balancing on a soft foam roller to reset your alignment
How to use the inner core in every day life.
No prior experience is necessary and all levels of fitness are welcome. Please wear loose clothing. All materials will be provided.
Check out Karen's new book, Your Body's Brilliant Design (A Revolutionary Approach to Relieving Chronic Pain)
$50