Pilates/Yoga/Movement  Workshops
These Pilates and Yoga/Movement workshops are best thought of as semi-private sessions with our knowledgable instructors, who will discuss anatomy, functional movement in Pilates/Yoga, and how to put it all together to help lengthen and strengthen your unique body.
"I AM" is a collaboration between dancers, Dawn Brunn & Jody Polson. Their collective choreography is set to inspiring, up-lifting music using easy-to-learn dance moves. "I AM" is a call to action to occupy self – "this is who I am." The focus is the real you and our intent is fun, playful and empowering. Dress wild and fun!
Sun
day

 9/17 
3:30 pm – 5:30 pm

 
"We love all of the exciting Pilates equipment, but did you know that each piece was created for one reason? The Reformer, the Cadillac, and all your other favorites were invented simply to get healthy bodies strong enough to do the Mat work. Dive deeper into the heart of the Method as we take a close look at the Intermediate and Advanced Classical Mat Repertoire. Whether you aspire to teach, are already a teacher, or are a dedicated student who wants to more intimately understand the work, this weekend will enrich your practice and solidify your knowledge. During this weekend, you will learn: the Intermediate and Advanced classical choreography, anatomy within the exercises, effective hands-on assists, and how to find your teaching voice and communicate with clients. Prerequisite: An intermediate level Pilates practice, OR Mat 1-2 training. We look forward to joining with you for another fun and enlightening weekend!"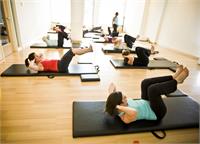 Hands on and Cueing: AKA ,What's in your toolbox? Getting a client to do an exercise is one thing. Getting them to feel it is another, and getting them to feel it differently is what makes a teacher great. This class will tap into your creativity to explore imagery, tone of voice, and speed of delivery to get more out of your client. The hands on portion will help you to feel where the client is moving from and to guide and assist them into new possibilities in their bodies. Every client learns in different ways, so its good to have a full toolbox to work with.
$60
The Barre Technique Workshop is uniquely designed to deepen your understanding of this popular fitness format. With foundations in both Ballet and Pilates, Barre technique is intricate and precise. To effectively create lean muscle mass and move safely, it is important to understand Barre fundamentals. Erika will break down the most common exercises with an emphasis on musculature movement, alignment and control. You will walk away with the tools to take your Barre practice to the next level!
Erika danced ballet for 13 years and is one of our SIX Barre Master Trainers. Erika strives to increase students' body awareness and empower them in a safe and positive workout environment.